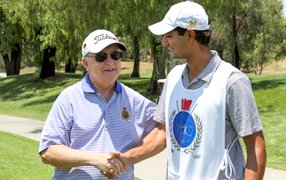 Breaking into the golf business is no easy task. It is often said about life that, "It's just as much who you know as what you know," and nowhere is that more true than within the golf industry. That is why placement is a full-time job at the Professional Golfers Career College.
We take golf job placement seriously. Our placement record is a source of pride for us.
While our students are working hard toward gaining the skills and knowledge required for success in their chosen area of the business, our entire staff is continually cultivating and maintaining their list of industry contacts. PGCC has over 60 combined years of experience, the executive staff of PGCC possesses a remarkable network of potential employers.
Here are a few companies that hire our graduates:
American Golf
Arnold Palmer Golf Management
Billy Casper Golf
Bridgestone
Brown Golf Management
Callaway Golf Company
Camelback Resort
Celebrity Cruise Lines
Club Corporation
Eagle Golf
ESPN Sports
Faldo Golf Institute
FlightScope
Golf Digest
Golf Magazine
Harvey Penick Golf Academy
Heritage Golf Group
Jim McLean Golf Schools
John Jacobs Golf Schools
Kemper Sports Management
Nike
Palmetto Hall Golf Club
PGA Tour
Taylormade Golf
The Golf Channel
Titleist
Troon Golf
US Golf Association
Keeping in mind that our primary mission is to prepare and personally introduce future leaders into the world of golf, placement permeates the entire 16-month program. Students take an entire series of courses dedicated to instruction in the process of finding a job, enjoying success with it, and utilizing it as a springboard for building a rewarding career.
The ideal golf job for each individual doesn't just happen. That's why golf career counseling and planning is an integral part of the placement experience for the PGCC student. As a result, our students come to the college with a passion for the game of golf and leave with a passion for their specific career in golf.
From the very first week of the Freshman semester, our Executive Directors and Placement Directors start introducing students to a time-tested process for building an individualized career strategy. Students are taught how to set achievable career goals and then assisted in developing a plan to reach those goals by graduation. An advisor or "coach" then spends time with each student to revisit and monitor progress toward their goals. And of course, all of the above takes place within the informal "open-door" environment that characterizes PGCC.
Because there are so many different types of golf jobs, course material for each class at the college is tailored to provide information relevant to employment within that sector, whether it is golf instruction, managing a facility, or administering tournament play.
In addition, throughout the PGCC program, opportunities abound for students to gain hands-on industry experience through internships and part-time jobs. Many students take advantage of the chance to work at the many golf courses and golf shops in and around our campuses.
Our students have taken positions as golf professionals, teaching professionals, tournament directors, junior golf administrators, general managers of country clubs, sales representatives of leading golf club and apparel companies. Other graduates have opened their own golf retail shops, golf club fitting companies, and have purchased their own golf courses. Our graduates have also played professionally on tours throughout the world including the European Tour, LPGA Tour, Asian Tour, Korean Tour and Scandinavian Tour.
No matter what your passion is for golf, we can give you the education and placement help to make your dreams become reality.
---