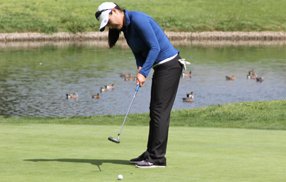 There is a diverse range of golf skills among the students attending Professional Golfers Career College. However, the common threads among all PGCC students — regardless of ability — are a love for the game, and a desire to improve their skills while gaining satisfaction out of each round. Whether you are a scratch golfer or carry a 20 handicap, the golf program at PGCC is designed to help you improve and enjoy your game.
For serious players whose career objective is to become a PGA professional, one of your primary goals is to pass the PGA of America's 'Playing Ability Test' (PAT). As the first step toward gaining PGA Class A certification, the PAT represents an important career milestone. And nowhere is there a better place to hone your skills for this challenge than Professional Golfers Career College.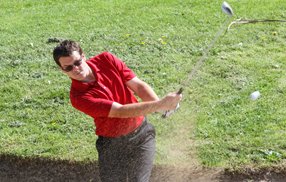 For students of all skill levels, three equal components are emphasized within the PGCC golf program: playing, practice, and instruction. Golf activities take place seven days a week, exposing students to proven practice techniques as well as the challenge of competitive golf via tournaments. Instruction comes in the form of course work within the 'Techniques of Teaching' series of classes, optional afternoon clinics, or through one-on-one lessons with our PGA and LPGA professionals.
In addition to engaging in open play, students compete in weekly sanctioned tournaments all semester long. The cream of the crop qualify for the right to represent the student body in a three-day Ryder Cup style match-up with the College's faculty and teaching professionals. In addition, each semester culminates in a three-day stroke play tournament for all students that determines the PGCC Semester Champion.
Finally, to prepare students for a career in professional golf instruction, the golf and academic programs at PGCC merge to create numerous hands-on opportunities for students to develop their teaching expertise. The college has traditionally offered free golf lessons at select facilities to the general public in Temecula and Hilton Head, allowing students to offer a community service while refining their teaching skills.
In short, regardless of your skill level when you arrive at PGCC, all of the tools that you need to improve and enjoy your own golf game are at your disposal—and all that is included with your tuition!
---