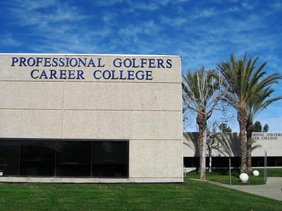 26109 Ynez Road
Temecula, California 92591
Toll Free: 800-877-4380
The founders of PGCC set out more than 20 years ago in search of an ideal environment for educating the future leaders in the world of golf. They soon discovered the perfect setting. East of Los Angeles and Orange Counties, and north of San Diego, the city of Temecula provides warm, nearly perfect playing conditions throughout the year—and a 90 mile proximity to more than 200 of the country's finest golf facilities.
Located in a beautiful valley, Temecula enjoys a classic southern California climate where it rarely rains and almost never snows. This peaceful, but thriving area is home to numerous championship courses, guaranteeing ready access to play at almost any time. In addition, golf fans have ample opportunity to witness golf as it's played at the highest levels. Each year, the PGA Tour's "West Coast Swing" brings tournament golf to four locations that are just a short drive away. The Senior PGA and LPGA Tours also host annual events nearby, including the Kraft/Nabisco championship, the LPGA's first major of each season. It's little wonder that this region produces some of the world's most passionate and successful golfers.
Golf in Temecula….
Professional Golfers Career College is the only accredited college in the world with golf activities seven days a week included in tuition. Golf and golf practice availability in the Temecula Valley and elsewhere in Riverside County couldn't be better. And if ever the tee sheets should be filled before a student can reserve a tee time, our administrative staff will stop work on other activities to find a course for the student so a day's play won't be lost. Playing golf is a priority at our college.
Here are just some of the courses you'll be able to play as a student of the Temecula, California campus: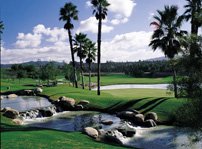 The Legends Golf Club at Temeku Hills
www.thelegendsgc.com
PGCC's Home Course! This well manicured course is a classic Ted Robinson design, featuring five lakes and numerous doglegs to challenge golfers of all abilities. Locally known for its excellent greens, the course plays tougher than its 6,600 yards would indicate.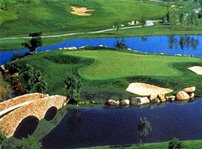 Redhawk Golf Course
www.redhawkgolfcourse.com
This 7,175 yard championship course is one of the toughest tests of golf in California. From the back tees, the course plays to a rating of 75.1 with a slope of 145. Home of many professional tournaments and qualifiers, this course is always in exceptional shape. Bring your 'A' game—even scratch players have been known to shoot rounds in the 80s here.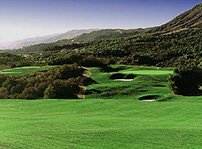 Cross Creek Golf Club
www.crosscreekgolfclub.com
Home of "pristine golf," Cross Creek is beautifully crafted by Arthur Hills, one of America's most celebrated modern day architects. The terrain was carved and prepared as if nature intended for the golf course to be built on this site. Many tees and greens are secluded in groves of age-old Oak and Sycamore trees. The course isn't overly long (6,833 par 71), but it is definitely a challenge, even for scratch golfers (74.1/142). Also boasting an excellent practice facility, Cross Creek is truly one of California's finest.
Pala Mesa Resort
www.palamesa.com
Rated "four stars" and ranked one of the top 200 golf courses in the U.S. by Golf Digest, Pala Mesa is just south of the college across the San Diego county border. The course is a challenging, beautifully manicured 18-hole par 72 layout accented by majestic oaks, sycamores, and other mature trees. Relatively short (6,502/72.0/132), Pala Mesa definitely puts a premium on accuracy. When you finally reach the greens, that's where the real fun begins since Pala Mesa is well known for its fast, tricky greens.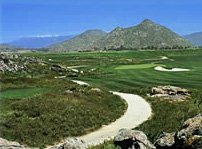 Landmark at Hemet Golf Club
www.hemetgc.com
Hemet Golf Club is an 18-hole, par 71, Schmidt-Curley design featuring Bent Grass greens and cool season grass fairways. Seven holes on the golf course meander through the picturesque edges of colorful foothills, revealing the natural beauty of the terrain and spectacular snow-capped peaks of the San Jacinto Mountains. A newer course that's always in excellent shape, Landmark at Hemet is quickly becoming a favorite of Southern California golfers.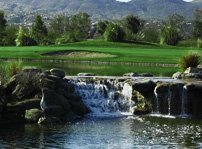 Diamond Valley Golf Club
www.diamondvalleygolf.net
Diamond Valley Golf Club is a challenging par-72 layout (6,720/73.0/135). One of the few courses in the area with Bermuda grass greens, Diamond Valley gives our students a great opportunity to test their putting skills on a different type of green, since most greens in Southern California are either poa annua, or bent grass. Always in great shape, Diamond Valley is a definite "must play" in the area.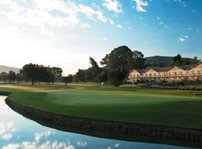 Temecula Creek Inn
www.temeculacreekinn.com
Temecula Creek Inn features 27-Holes of Championship Golf surrounded by over 300 acres of rustic beauty, dramatic elevation changes, sweeping mountain views and year-round sunny weather. Temecula Creek Inn Golf Course was awarded a Four-Star rating from Golf Digest's "Places to Play," and provides Golfers with a perfect combination of challenging Golf and breathtaking scenery. Stonehouse Nine Golf Course features rock outcroppings where precision play is critical.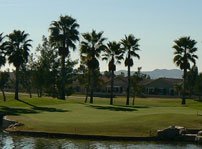 Menifee Lakes Country Club
www.menifeelakesgolf.com
Featuring 36 holes of golf in a beautiful setting, Menifee Lakes is aptly named, since water comes into play on 17 of the 36 holes on the course. With firm, fast fairways and greens that usually run true, Menifee Lakes is a great course for low handicappers to "go low." In fact, Brendan Steele, PGA Tour professional, shot a two round total of 17-under (127) during his college days at the U.S. Amateur Public Links qualifier.
Glen Ivy Golf Club
www.glenivygolf.com
Glen Ivy Golf Club is a unique golf experience, with scenic views and creativley placed fairways, tees and greens. This par 72 course, designed by renowned golf course architect Ted Robinson Sr., is as pleasing to the eye as it is challenging. Woven through the groves of citrus trees and the hillsides and canyons along the Cleveland National Forest.
Vista Valley Country Club
www.vistavalley.com
Vista Valley is set in a beautiful valley and offers a peaceful escape from all the noise and bustle of the city. The beautiful Ted Robinson Designed 18-hole championship golf course presents a fresh challenge and a new opportunity from tee to green which allows players of all levels to enjoy the sport in its purest form and is everything the discerning golfer should, and would expect, from an exceptional private country club.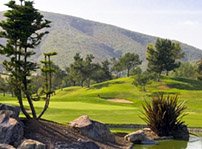 Twin Oaks Golf Course
www.jcgolf.com/course/twin-oaks
Twin Oaks Golf Course in San Marcos, California, Ted Robinson, course architect, has created a golf course that finds balance. Fairways at Twin Oaks can be narrow and test golfers' accuracy off the tee. Keep your drives out of the rough, and you'll be rewarded with ample opportunities to hit the green in regulation. You'll also find the greens to be quick and true: Read your putt correctly and your ball will find the hole.
Links at Summerly
www.linksatsummerly.com
Nestled between Southern California's largest natural lake, Lake Elsinore, the Ortega Mountains and the Cleveland Natural Forest, and just minutes from Temecula, the Links at Summerly's stunning par-72, nearly 7,000-yard layout was designed by renowned golf course architect Cal Olson to fit seamlessly into the landscape – incorporating natural mounding, pristine rolling terrain and three miles of Scottish-style burns to provide the look and feel of traditional links-style courses of the British Isles.
---