Arnold Palmer: Golf's Undisputed King
---
Posted on September 6, 2017
Here at the Professional Golfers Career College we honor the history of the game and the legends who helped make it great. Sometimes we are fortunate enough to interact with these icons. Years back our owner and founder Dr. Tim Somerville brought a handful of our students to visit golf's King, Arnold Palmer at his Orlando office, leaving them with a cherished memory of a lifetime. Dr. Tim Somerville had the pleasure of talking with Arnold Palmer, at the time Tiger Woods was dominating golf. Dr. Somerville was only scheduled to meet with Arnie for 15 minutes. Their meeting lasted nearly an hour as the pair discussed the History of Golf, a subject matter which Dr. Somerville teaches at PGCC.

Dr. Somerville mentioned he teaches golf history to Mr. Palmer, to which Arnie responded by slamming his fist down passionately as he stated "The history of golf, you know Jack and I had a lot to do with the History of Golf." Dr. Somerville simply responded, "I know Mr. Palmer and we spend a whole class just discussing you." Palmer was very pleased by that reply. The conversation continued, as Mr. Palmer's assistant came in to try and wrap things up, but Mr. Palmer simply responded "Not now, Doc and I are talking about the history of golf." Dr. Somerville happily recounts that meeting every semester to his Senior "History of Golf" course.

Arnold Daniel Palmer was born September 10th, 1929 and raised in the small town of Latrobe, Pennsylvania. His father Milfred "Deacon" Palmer gave Arnie his first set of golf clubs at the age of four. Deacon Palmer was the course superintendent and golf professional at the Latrobe Country Club. Deacon taught Arnie everything about the game, from grip and swing to the integrity, respect, and values associated with the game. The course became the training ground for a young Arnold Palmer. At 11 years old Arnie became a caddie at the golf course and would work nearly every position there.

Deacon Palmer encouraged Arnie to "Hit it Hard" and he sure did. Winning junior events in Pennsylvania and eventually earning a golf scholarship to Wake Forest University. Arnie became Wake Forest's first individual NCAA champion and ACC champion. However his college career ended in his senior year. Tragically Arnold Palmer's close friend and teammate, Bud Worsham, lost his life in a car accident. Worsham was the one who influenced Palmer to go to Wake Forest. The loss affected Palmer to the point he quit school, stopped playing golf and joined the U.S. Coast Guard for three years.

When Palmer finished his stint in the U.S. Coast Guard, he found himself working in paint sales in Cleveland. Arnie found his way back to the golf course and in August 1954, prior to turning 25, he won the United States Amateur Championship. The win convinced Arnie to pursue playing professional golf as his career. A month after, Arnie met a 19 year old college student by the name of Winnie Walzer on a Tuesday at an amateur golf event. Arnie, true to his bold style, proposed to Winnie that Sunday.

Arnie ensured that while making history upon the golf course he stayed committed to being a devoted family man. Arnie and Winnie had two daughters, Peggy and Amy, whom he made certain they knew he loved them. Arnie and Winnie were one of golf's power couples and were together for nearly 45 years until sadly Winnie passed in 1999 at the age of 65 from ovarian cancer. Sam Palmer Saunders, son of Arnie and Winnie's youngest daughter Amy Palmer Saunders, has continued the family tradition and is competing on the PGA Tour. Palmer did eventually re-marry in 2005 to his second wife Kathleen Gawthrop.

Arnold Palmer entered the professional golf world right on the precipice of golf being broadcast on television. Arnie had charisma and charm which captured audiences on the course and watching at home. He had a "bad boy" mystique as he smoked his cigarettes while marching down the fairway during his signature final day charge. Arnold Palmer earned his initial PGA Tour victory at the 1955 Canadian Open. Palmer would go on to win 62 PGA Tour events throughout his career, the fifth most of all time. His swing was unconventional from the standard professional, with an unbalanced and often awkward finish which the average golfer could relate with more.

Arnie was a man of the people and quickly became golf's undisputed "King" with his stunning victories and thrilling defeats. His humbleness and popularity brought golf out of the hands of the elite and into those of the common man. He made it a point to sign every autograph he could, leaving no fan behind. This grew him a fan base quickly and at the 1960 Masters Tournament they received their name, "Arnie's Army." After Palmer sealed his comeback victory with back-to-back birdies, an "Arnie's Army" sign appeared on the scoreboard. The term was coined earlier that week in a local newspaper after nearby soldiers from Camp Gordon followed Palmer around Augusta.

The 1960 Masters victory was Arnie's second green jacket but not his last. His first came in 1958 and was his initial launch into the fan's hearts. Palmer went on to conquer the Masters a total of four times, winning in 1962 and 1964 as well, the second most alongside Tiger Woods and behind Jack Nicklaus's record six Masters. His 1964 win was the last of his 7 career major championships. Arnie was a favorite at the Masters and competed in it for 48 years until 2002. In 2007, Palmer returned to Augusta to be an honorary starter for the tournament.

After winning the 1960 Masters Tournament, Arnie earned his first and only U.S. Open Championship. Attempting to capture the illusive single-year Grand Slam, Palmer traveled to Scotland to compete in the Open Championship. However, he was unsuccessful in his initial attempt, but he fell in love with the Old Course and St. Andrews.

Determined to help restore the significance of golf's oldest major, Arnie enlisted America's golf professionals to join him the following year on the journey. At the time, many Americans had stopped going over to play due to the expense. Palmer was victorious in his return in 1961 and captured the Claret Jug. Arnie successfully defended his title the next year winning his 2nd and final Open Championship. Palmer became a beloved presence at the Open Championship and has been credited with revitalizing the tournament to its former glory. He competed in his last Open Championship in 1995 to a joyous reception and tearful goodbye from the fans.

Arnie blazed a new trail for generations of golfers to come both with his on-course performance and off-course presence. He was the first professional golfer to reach $1 million in career earnings on the PGA Tour after placing second at the 1968 PGA Championship. Along with his prowess on the course, his rugged good looks and crowd appeal made him the go-to spokesman for many companies. Palmer became the first star client of Mark McCormack, a lawyer he met at Wake Forest University turned sports agent. The two sealed their lifelong deal with a hand shake, and nothing more. Arnie became a noted pitchman for hundreds of products and services including Callaway, Cessna, EZ-GO Golf Carts, Golf Digest, Hertz, Ketel One, Pennzoil, Rolex and Xarelto.

Arnold Palmer's agent Mark McCormack operated the International Management Group (IMG), which later signed Jack Nicklaus and Gary Player. McCormack packaged the trio of Palmer, Nicklaus and Player as the Big Three of golf. The Big Three competed in televised exhibition matches which were played around the world raising their popularity and influence even further. The masses eagerly tuned in to see the King, the Golden Bear and the Black Knight battle it out on the course.

One product Arnold Palmer is synonymous with is the "Arnold Palmer" drink, a combination of half iced tea and half lemonade. The beverage is now sold by Arizona and bares images of the golfing great. Palmer's wife Winnie would make iced tea for lunch and one day Arnie suggested adding lemonade to the large pitcher of iced tea. He then began drinking the combination on the golf course. Then in a Palm Springs resort a woman at a pro shop overheard what Palmer was ordering. When the server asked what she wanted to drink, she replied "I want an Arnold Palmer," and the rest is history.

Palmer became a spokesman for a greater cause after the Surgeon General's 1964 report linking smoking to lung cancer. It was one of the hardest things Arnie had to do, but after the report was released he quit smoking. After successfully stopping the habit Arnie became a major public figure for anti-smoking campaigns and encouraged his fellow PGA Tour players to quit too.

One of the biggest defining characteristics of Arnold Palmer is courage. It was courage which drove Arnie to become a pilot. He had struggled with a fear of flying early in life, so to conquer that he got inside the cockpit. In 1962, he bought his first plane, a twin-prop Aero Commander, placing him among one of the first golfers to pilot their own plane. Over the 55 years Palmer has flown nearly 20,000 hours, a variety of planes, and circumnavigated the globe in 1976 over the duration of 57 hours 25 minutes and 42 seconds which set the world record for 17,600-26,400 pound jets. In 1999, on Arnie's 70th birthday, his hometown airport in Latrobe was renamed from Westmoreland County Airport to Arnold Palmer Regional Airport.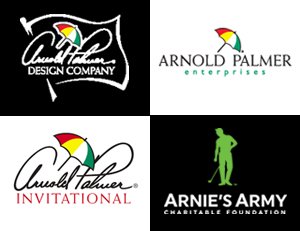 Arnold Palmer inevitably built himself an empire, culminating with his Arnold Palmer Enterprises. Arnold Palmer Enterprises manages all the partnerships and business relationships which were established by Palmer and McCormack. Palmer was at the helm, as president, of Arnold Palmer Enterprises. His enterprise covered a wide span of his commercial endeavors, including golf clubs and clothes. His reach extended into aviation and automotive companies, he even owned a car dealership in his hometown of Latrobe.

Another company baring Palmer's name is his golf course design business, Arnold Palmer Design Company. It was formed in 1972, which made Palmer the first modern golfer to be a golf course architect while playing on tour. Arnie partnered with an upcoming course architect Ed Seay to form the design company. Throughout his golf course design career, Palmer had a helping hand in building and remodeling over 300 courses. His courses can be found in 37 states throughout 25 countries on five continents. In 1971, Arnie bought his home course, Latrobe Country Club, and in 1988 he built the first modern golf course in China.

Arnold Palmer would lend his name to another endeavor, the Arnold Palmer Invitational Tournament. The Arnold Palmer Invitational Tournament is a PGA Tour event hosted at the Bay Hill Club and Lodge in Orlando, where Arnie was the owner. The tournament began in 1974 as a successor to the discontinued Florida Citrus Open Invitational. The field for the event is restricted with only the top 70 golfers from the past year's money list guaranteed spots.

When Palmer turned 50 in 1979, he continued to help popularize golf further. This time on the PGA Tour Champions (then known as the Senior PGA Tour and subsequently the Champions Tour), which had just recently been formed. Arnie's Army followed him into the PGA Tour Champions which helped to grow interest in the tour. There Arnie won 10 events including five major championships. Palmer furthered golf's growth in 1995 when he assisted in getting the Golf Channel off the ground. Palmer was the co-founder and original chairman for the Golf Channel upon its launch. His name alone helped draw an audience.

Aside from his charm and charisma, Arnold Palmer, is the King because of his huge heart. Palmer established the Arnie's Army Charitable Foundation which assists children and youth. It was fundamental in raising capital for building the Arnold Palmer Hospital for Children, the Howard Philips Center for Children & Families, the Winnie Palmer Hospital for Women & Babies Center, and the Winnie Palmer Nature Reserve. Always true to his roots, Palmer was a member for the board of directors at the Latrobe Area Hospital, and held annual fund-raising golf events which helped in the development of the Latrobe Area Hospital Charitable Foundation. In 2002, the organization Arnie's Army Battles Prostate Cancer launched and hosted over 2,500 fund-raising tournaments which brought in $3 million for prostate cancer research. After Palmer passed, he left $10 million of his estate to his Arnie's Army charity.

While Palmer was the hero of the common man, he did have friends in high places, like the White House. After Palmer won his first Masters Tournament in 1958, President Dwight D. Eisenhower reached out to him to play a round together. The two quickly became friends and Palmer joined Eisenhower for exhibition matches for both charity and fun. Their friendship would last a lifetime and Palmer's presidential playing partners would grow. Arnie would tee it up with Richard Nixon, Gerald Ford, Ronald Reagan, George H. W. Bush, Bill Clinton, George W. Bush, and Barack Obama. In 2004, Palmer's accomplishments on and off the course came to a culmination when he received the Presidential Medal of Freedom from President George W. Bush. He was the first golfer to receive the honor. In 2009, Palmer was bestowed the Congressional Gold Medal, which was passed by Congress and signed by President Barack Obama. Palmer was only the second golfer to have been bestowed the honor, the first was Byron Nelson.

On September 25th, 2016 at the age of 87, the golf world took a moment to reflect when the news that our King passed away. The game has forever been changed by this small-town man with a big heart and big dreams. Thanks for everything Mr. Palmer! We will always be members of Arnie's Army.

MAJOR CHAMPIONSHIPS: 7

PGA Tour: 7
Masters Tournament: 1958, 1960, 1962, 1964
U.S. Open: 1960
The Open Championship: 1961, 1962
PGA Tour Champions (Senior PGA Tour): 5
PGA Seniors' Championship: 1980, 1984
U.S. Senior Open: 1981
Senior Players Championship: 1984, 1985
BIGGEST ACHIEVEMENTS
Inaugural World Golf Hall of Fame Member
Presidential Medal of Freedom
Congressional Gold Medal
1960 Sports Illustrated Sportsman of the Year
PGA Tour Lifetime Achievement Award
Since 1981 PGA Tour awards leader of the money list the Arnold Palmer Award
Golf Digest awards the "Arnie Award" to the most charitable player annually
---