Alumni Spotlight: Ray Vincent
---

Posted on October 2, 2017
Ray Vincent graduated from the Professional Golfers Career College in 2012, a school he never thought he'd attend. Ray Vincent initially saw our commercial while laid up in a hospital bed with a broken spine. Intrigued by the concept, Vincent put it down as an option for his Vocational Rehabilitation, which he earned by serving in the Military. He didn't think they'd actually choose it, but they did as they saw the potential in the golf profession. Years later, Vincent is now working in the golf industry at Royal Links Golf Club in Las Vegas as the Corporate Sales Manager and is loving it.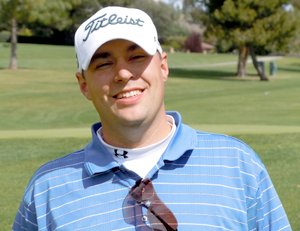 Ray Vincent grew up in rural Southwest Montana and was a basketball player before getting into golf. His love for basketball and Michael Jordan "translated to the Tiger Woods love and I became a Tiger Woods fan." Explains Vincent on how he first got interested in golf. He got his first set of clubs thanks to his father who, "ended up working with a custom club builder in Elko, Nevada & my father ended up getting me a custom-built set of golf clubs." He was in his early teens and got a junior pass for unlimited golf in the summer. "I just went to the golf course, now learning about it I felt like the Lee Trevino of golf," as Trevino is famously known for being self-taught. "I would go there, I didn't even have a driver's license, I'd have to hitch rides to the golf course at 13/14 years old and I'd go to the golf course…" recalls Vincent as he describes his initial golf experiences. "Every once in a while, I'd get a lesson on the basic stuff like, keep your head down and keep your left arm straight, that was pretty much the only golf training I had before coming to PGCC."

Vincent's road to the Professional Golfers Career College was quite a unique one. He was working in Home Automation & Theater Systems prior to getting into the golf industry. During a day off he was in a cliff diving accident and broke his back and neck. "I broke 5 vertebrae… one was an actual break the other four were fractures, and I ruptured or damaged 13 discs. I'm actually almost an inch and a half shorter than I was in my basketball playing days." Then a commercial would play which changed Ray Vincent's life. "When I was laying in the hospital bed, the ad for golf college came across the TV. I literally remember looking at myself, by looking at myself I mean sitting there in a neck collar, going 'They really have a golf college?'"

So Vincent decided to further explore this option, almost certain it wouldn't become a reality. Another option he was looking at was "massage therapy school, because I wanted to be in the travel industry and help industry." He did research about PGCC and called our number (800-877-4380) from the commercial and received our information packet in the mail. "I put down that I want to go to golf college on my list of things (For his Vocational Rehab), it was actually the third one down cause I thought this is so ridiculous, there's no way the government's going to pay for me to go to a golf college." Then he received the news, "they said that I was too disabled to be a massage therapist but I wasn't too disabled to go to golf school… Basically they saw the promise in the golf professionalism and it did meet the criteria."

Vincent began his road to recovery and 8 months after his accident he got the clearance to start playing golf again. "I went, played a few rounds of golf and I actually was going to start a semester earlier than what I did." However he was unable to get the doctor's authorization to start in the Fall semester, but he was able enroll for the Spring 2011 semester. So, he headed to Temecula California to become a golf professional and learn the industry.

Upon first arriving at the Professional Golfers Career College Ray Vincent was made to feel like part of a family, from students and staff going all the way up to the top with Dr. Tim Somerville & Sandi Somerville. He still recounts stories from his freshman semester and "I still have a Brazilian Nut in my golf bag from George Rivera, from the very first day of George's class." He explains "basically George Rivera… what his thesis of his class was golf as a business and life as a whole is a tough nut to crack and he gave everyone a Brazilian Nut on the first day of class."
Vincent continues to share his PGCC experiences, "A lot of it is like, getting out of class at 11:50 AM and getting as many guys in the car as you could. Stopping by the Taco Bell at the corner and trying to get all the way to Lake Elsinore or to Menifee Lakes before a 1:00 PM tee time with 6 guys in the truck." It's the friendships made on trips like those which helped Vincent start his network of golf professionals. Vincent emphasizes, "the number one lesson, is networking. If you learn anything from this school it's to keep business cards and to introduce yourself."
Ray Vincent was taught the value of being professional in both life and golf while at PGCC. He learned that the little things add up, "pressed slacks and polished shoes." Another item might be "a light bulb being out in the golf shop," for instance. "When you get out in the real world and you realize that's your job to look at the sky and see if there's light bulbs out." He was taught that "the biggest lesson is knowing that there's stuff beyond the golf swing."
Along with teaching Vincent to focus on the minutia, there were many other lessons which helped prepare Vincent for his golf career. "Number one was confidence." Vincent describes further "Confidence in understanding golf and the understanding of the little things, like how to be a marshal." Aspects about the marshal duties and how to approach them like, "When to talk to people. How to talk to people." It's not just self-confidence that Vincent is referring to either, but "confidence in the education" as well.
It was Ray Vincent's ties to PGCC which helped him secure his first job at Bear's Best Las Vegas. "On my resume it said PGCC, the first General Manager (Jim Stanfill) that gave me a chance knew Gary (Gilleon) from Las Vegas." Gary Gilleon, member of our Temecula staff, had worked with Jim Stanfill at Black Mountain Country Club in Henderson, Nevada. Mr. Gilleon told Stanfill that "he graduated with honors here, he can work any golf club in the country." Upon the recommendation Ray Vincent was hired at Bear's Best Las Vegas and quickly rose through the ranks. "I took my first job as a Cart Barn Attendant and I was a Tournament Coordinator in three months."
Ray Vincent's journey through the golf industry continued, "so I was Tournament Coordinator, which was as high up as I could basically get at Bear's Best without relocating." After some contemplation, Vincent decided to leave Bear's Best and golf entirely. "During that couple of months, I actually went into the hotel industry in Vegas, to switch things up over a few years." However, the golf industry is hard to leave behind. Royal Links Golf Club had hired a new General Manager, who happened to know Ray Vincent. The two had been in competition for corporate group tournaments, but did work cohesively on occasions the events included both their previous courses.
Vincent received a phone call asking if he'd like to take a position at Royal Links Golf Club, to which he replied no. He had just recently turned down another golf job offer in California and was going to give the hotel business a shot. That lasted nearly an hour, until his longing for golf brought him to call back and arrange a meeting the following day at 6:00 AM, aka golf morning. "At 6:30AM I signed on as the Corporate Sales Manager and to help oversee golf revenue and retail for Royal Links. Two hours later I was grabbing uniforms and I never went back to the hotel, except for a sales meeting."

"I missed golf. I missed the interaction of golf." Admits Vincent. One day on the job, Vincent was reminded of his Golf Operations course here at PGCC and was inspired to write down everything he did that day as a Golf Professional. His list ended up with nearly 28 non-golf jobs he took care of that day. "That day was one of those days, where I was underneath the sink fixing a bad pipe in the men's locker room, I had to pick the range that day, print a tournament sheet, and had a dead cart out on the golf course where I had to go be a mechanic." But Vincent wouldn't trade it for anything, "the golf industry and people, can't get away from it." He jokes, "Once you're bit you can't once you're infected."

During his career in the golf industry Ray Vincent has got to help coordinate many events. With hundreds of fond memories including doing huge events with Ronald McDonald House of Charities and events with Lorena Ochoa, considered the best Mexican golfer ever who's been inducted to the World Golf Hall of Fame. However, the memory which stands above them all is from a PBR Bull Riding golf event. The event was a scramble style tournament were a four-some was joined by their fifth playing partner, a bull rider in full regalia, "in their boots, spurs, blue jeans, and their hats." They raised just under $20,000 during the event for the Boys & Girls Club. Vincent recalls, "I was actually on the stage at the PBR finals with the big check handing it over to the Boys & Girls Club. That was probably the coolest thing, to be with all the cowboys and stuff, but be wearing a golf shirt… I had the white golf belt, the white golf shoes, the slacks and the shirt and I was in the middle of the bull-riding ring handing a big check over to the Boys & Girls Club." It wasn't just the experience and environment that made the memory the best, but the joy on the faces of the Boys & Girls Club which was the most rewarding.

Another rewarding aspect of Ray Vincent's job is "seeing people succeed. Whether they're succeeding in their golf swing or they're an employee that's succeeding at moving up the charts." Watching someone hit the golf ball straight and airborne for their first time is a highlight for Vincent. Although he admits, "lessons are probably my least favorite thing to do… but I've had a lot of fun lately." The lessons have become more fun for Vincent thanks to his General Manager, who is the only female General Manager for golf in the Western United States. She started an initiative to provide Saturday morning lessons to ladies for free. "We have 24 to 28 ladies that come for these free lessons. So working with those have actually got me back to liking lessons because you see how excited they are when they hit a golf ball."

For anyone with an inclination about working in golf and thinking that the Professional Golfers Career College may be for them, Ray Vincent says, "DO IT. Really, if you have the opportunity to be here, take it and take it all the way." He emphasizes that while you're here take advantage of every aspect PGCC has to offer. Vincent breaks down his experience "You get to PGCC, you spend 4 hours in a desk, learning about stuff that we like… Then a half hour after that you go and you play 18 holes of golf. For a year and a half." Vincent provides a great comparison, "People do that for two weeks and say it's the best vacation of their life, we're talking about doing it for a year and a half."
Ray Vincent stopped by our campus and took a seat in our History of Golf course taught by PGCC founder Dr. Tim Somerville. Serendipitous the topic of discussion that day was Walter Hagen, his favorite golfer. "I mean today we were discussing the greatest golf match ever (between Bobby Jones and Walter Hagen), and we're discussing that as curriculum." Upon leaving PGCC you'll have a network of golf professionals both aspiring and established, "you have a rolodex that's going to get you a job. I don't know of anybody at PGCC that wanted to be in the golf business when they graduated that is not."
However, Vincent reiterates that it doesn't come that easy, his biggest piece of advice is to have perseverance. "Stick it out. Not just stick it out for the 16 months, stick it out for 3 years." He started in the Cart Barn after graduating but within three months moved up to Tournament Coordinator. Like any industry you must earn your position and prove your worth. "The biggest thing is to actually stick to it, but not through 16 months but give it 2 years when you're finished to actually go in and pick the range, and then start running the cash register. Then start making sales calls and work up to the General Manager spot. That's probably the number one thing, I think personally." The skills learned here at the Professional Golfers Career College have helped Ray Vincent on his journey into the golf industry. The professional network he began to established here got him into the door. "The rolodex doesn't break you into the business, it gives you your foot in the door. But into the business is your own doing and that takes time."
(Photos Taken from Ray Vincent's Facebook)
---